Our engagement story is my favorite, but Dan's version is so much better!
Hi guys, dan here! I get this question all the time, "How did you propose to Angi?" well, it was on a beach; but nothing was simple about it (fyi, angi is a very simple girl). To start, I need to take you back to when I fell in love with Angi.
Most people say that there is that one single moment when you realize you truly love someone. Those moments can range from all-time highs to the lowest of lows. For me, it was actually when I was over 600 miles away on my annual fishing trip in Canada.
I've been on trips before while dating Angi and not having a phone to communicate was nothing new. As the trip went on I could not stop thinking about how much I missed her. I wanted Angi in my arms, I wanted to hear her voice, and I wanted to see her smile. I thought to myself, I never want to go another extended period of time without her.
Fast forward about a year, in 2016, I was ready to purchase a ring. Originally, I wanted to "pop the question" after she would finish her half marathon in St. Louis, but i knew she would want a more intimate and personal engagement. So I sped up my time frame and planned a new date and location.
I could have just went to any jewelry store and found a standard engagement ring but, I wanted a ring that would have a more personal touch. I casually asked my mom for information on her friend's daughter, who makes custom jewelry. I met with Helene Lucille to discuss a few options. She showed me a variety of diamonds and after a few meetings we found the perfect one. Following that, we designed the band to reflect Angi's simplistic yet stunning personality. Helene worked frantically with her metal smith and they got me the ring the day before we left.
Left to where, you ask? A beach, have you not been reading? Not just any beach, but the flour-esque, white sand beach of Siesta Key. This was Angi and I's third year going to Siesta and this place is truly special to us. Between the Happy Hour, the sunsets, and friendly people we find true happiness when we are there. Before I go into details on that day, I have to talk about asking Angi's family for their Blessing.
By this time the ring was still with Helene and I only had three days before we left on our trip. I needed to have Ariel and Malou's Blessing (angi's parents). Being a millennial, I texted Mr. Batang, asking if Mr. and Mrs. Would like to go out to dinner because I was in the area and Angi was out with her friends. They accepted and later I found out that Malou had an idea I was going to ask for permission to marry her daughter. I was so nervous (which typically only happens during Bears games!) this was the biggest night of my life! I could not hold it in and even before our food was out, I asked Ariel and Malou for their blessings. they accepted and the night was filled with tears, laughter, and excitement!
The next day, i texted armin and louie (angi's brothers), because now I was only two days away and I still have not picked up the ring. i asked them if they could meet me at Little Louie's (Hot Dog Shack in Northbrook). I picked up Louie from his school and drove to 7-11. Why? Armin, as usual, was running late with work and now I needed to kill time with Louie. We honestly spent an hour in 7-11 finding the most expensive items, drinking Slupree's, and just goofing around. Eventually, we all got to Little Louie's and told them the big news. Armin was so excited he gave me a huge hug and Louie kept saying how shocked and excited he was that his sister is getting married. i'm 2 for 2 and officially pumped for the proposal!
Finally, the day after I went straight to the city to pick up the ring after work. I told Angi that I hit a heavy traffic driving up 294 when actually I was picking up the ring from Helene. The ring was gorgeous and I did not want to leave it out of my sight. when I got to Angi's parents house, i hid the ring in my bag. The next morning we left for Siesta and instead of keeping the ring in my bag, I placed it in my pants. I knew going through security might be tricky with a diamond ring in my pants but, i was nervous i would lose it or get it stolen.
when we got to the airport, I told angi to go through the metal detector first.Then i went and what do you know, I was pulled to the side for further inspection. I noticed Angi was gathering her things and told her to just wait for me by the benches. The tsa agent pulled me aside and asked me what was going on, I told him that i had an engagement ring on me and my girlfriend was waiting for me. He laughed, looked over his shoulder and said, "Oh, I just need a finger swab" (probably due to the Flu outbreak we were in the mix of). he let me through and now my mission was just to get to siesta without angi finding the ring.
We got to the hotel and originally I had planned to propose on the fifth out of our seven nights there. but really, i was too excited and just wanted to ask her! On the second night, while Angi was napping, I bought a bottle of Champagne, hid it in the cooler and prepared the playlist i made of our favorite songs.
We walked down to the beach just before the sunset and luckily had it all to ourselves (made sense because it was also Easter sunday). We drank some wine, I played my playlist and waited for the right moment. I wanted to surprise Angi while she was walking back from the water, so I told her to go take a picture. Again, I wanted to make the proposal perfect and I forgot to play "our song", Springsteen by Eric Church. A few minutes later, I told her, "The sunset looks even better. Can you go take another picture?" As she walked down Springsteen came on and Angi was finishing up with her picture. I took the ring out and got down on one knee. Initially, Angi could not see what I was doing, so she looked confused. Once Angi noticed, she ran up and I asked her, "Would you marry me?"
Yes, I know it should have been, "Will you marry me?" but at the time I was so nervous I misspoke. Either way, Angi said yes! we called our parents and friends to share the big news and celebrated all night and the rest of the week, just the two of us. it was perfect!
There it is, a long answer to a short, but life changing, question. it was one of the best days of my life and wouldn't change any of it for the world! i felt like the luckiest man in the world, and still do to this day.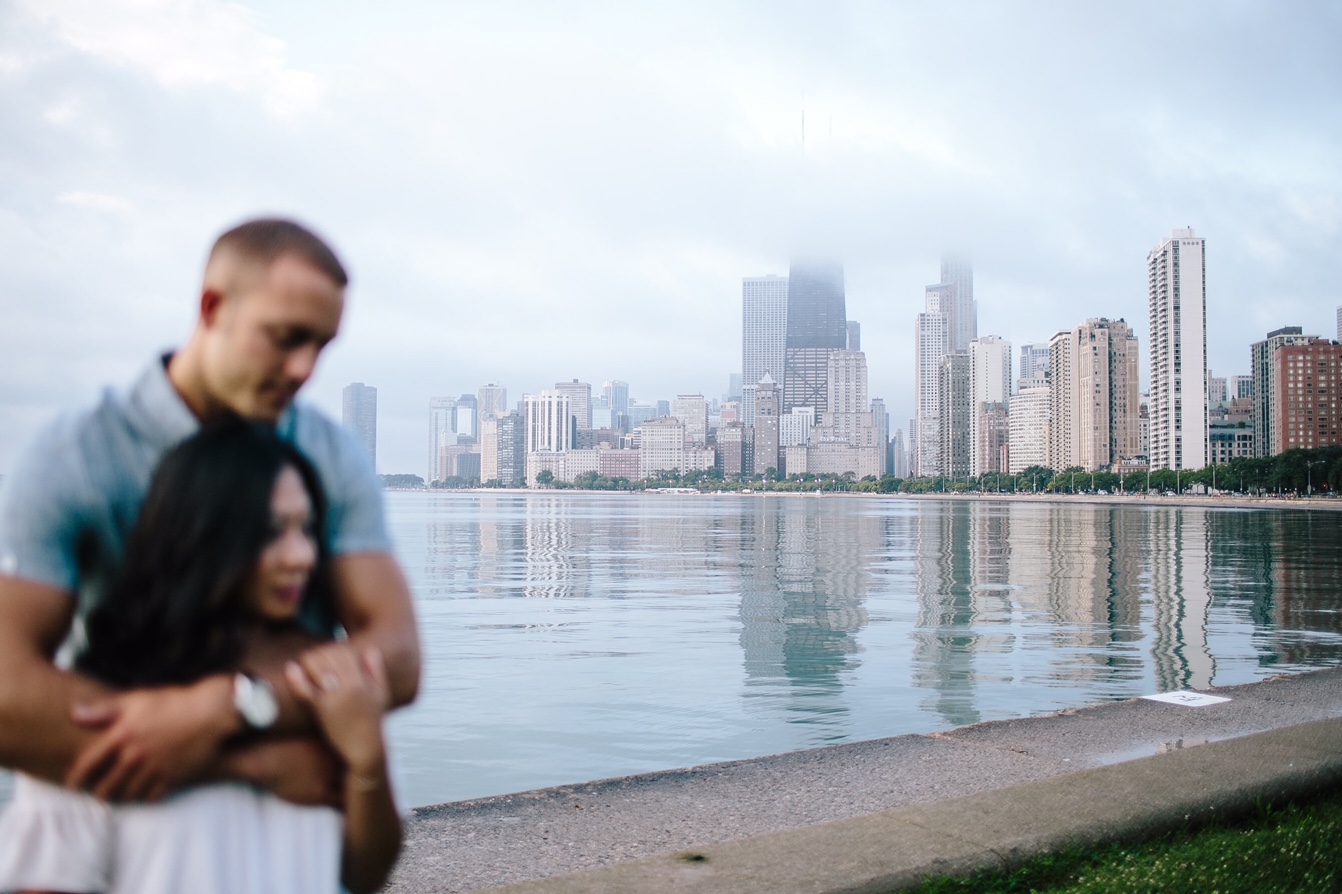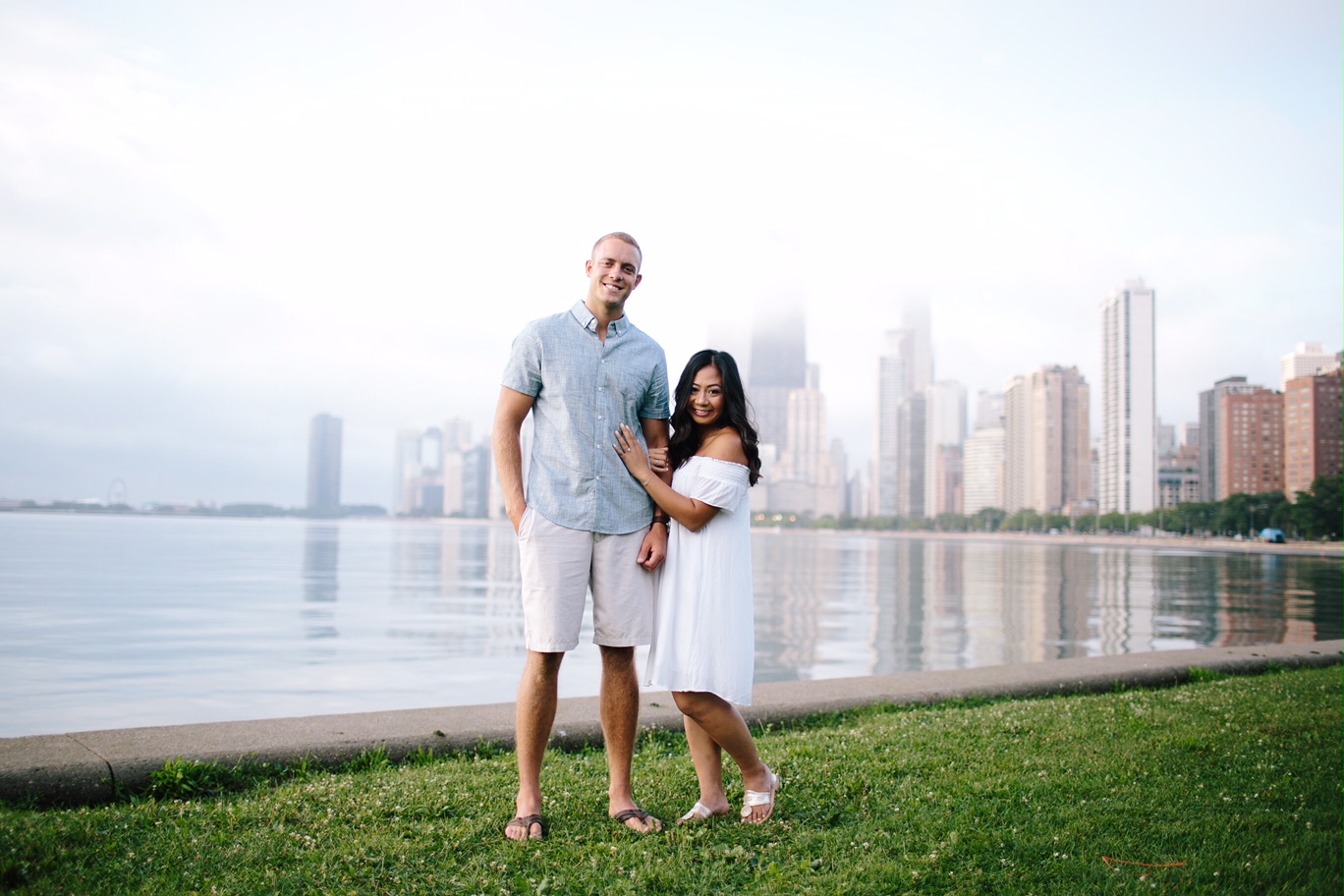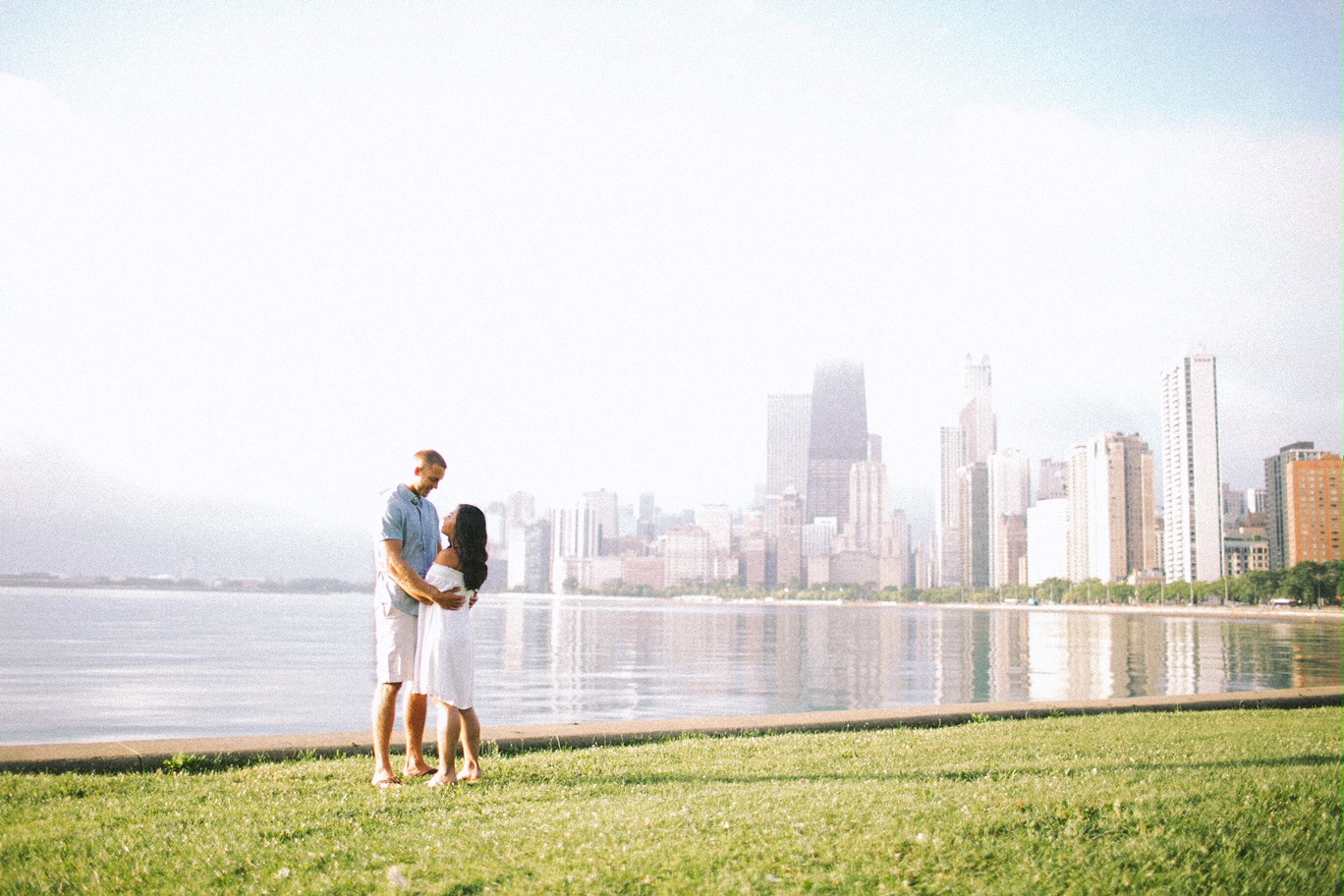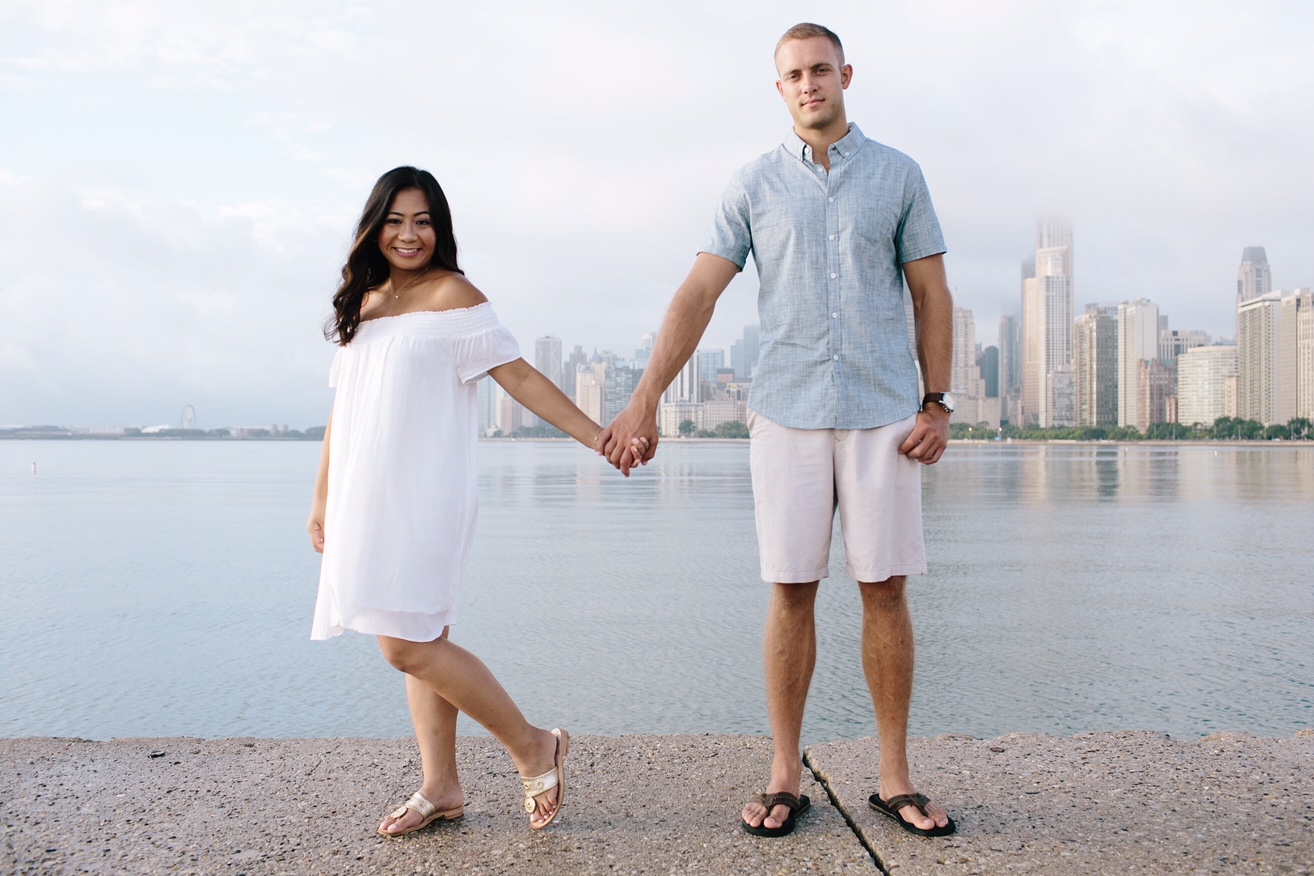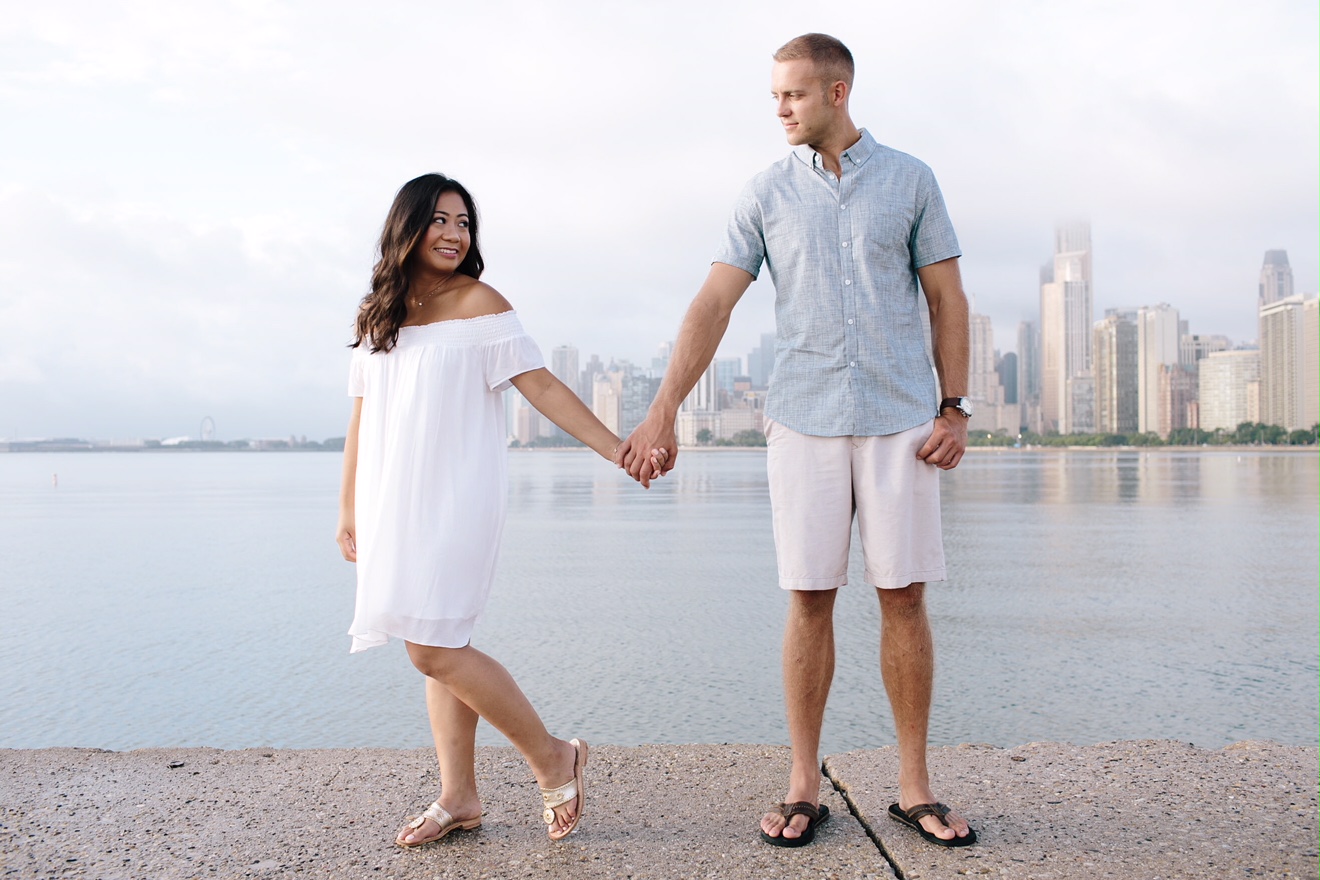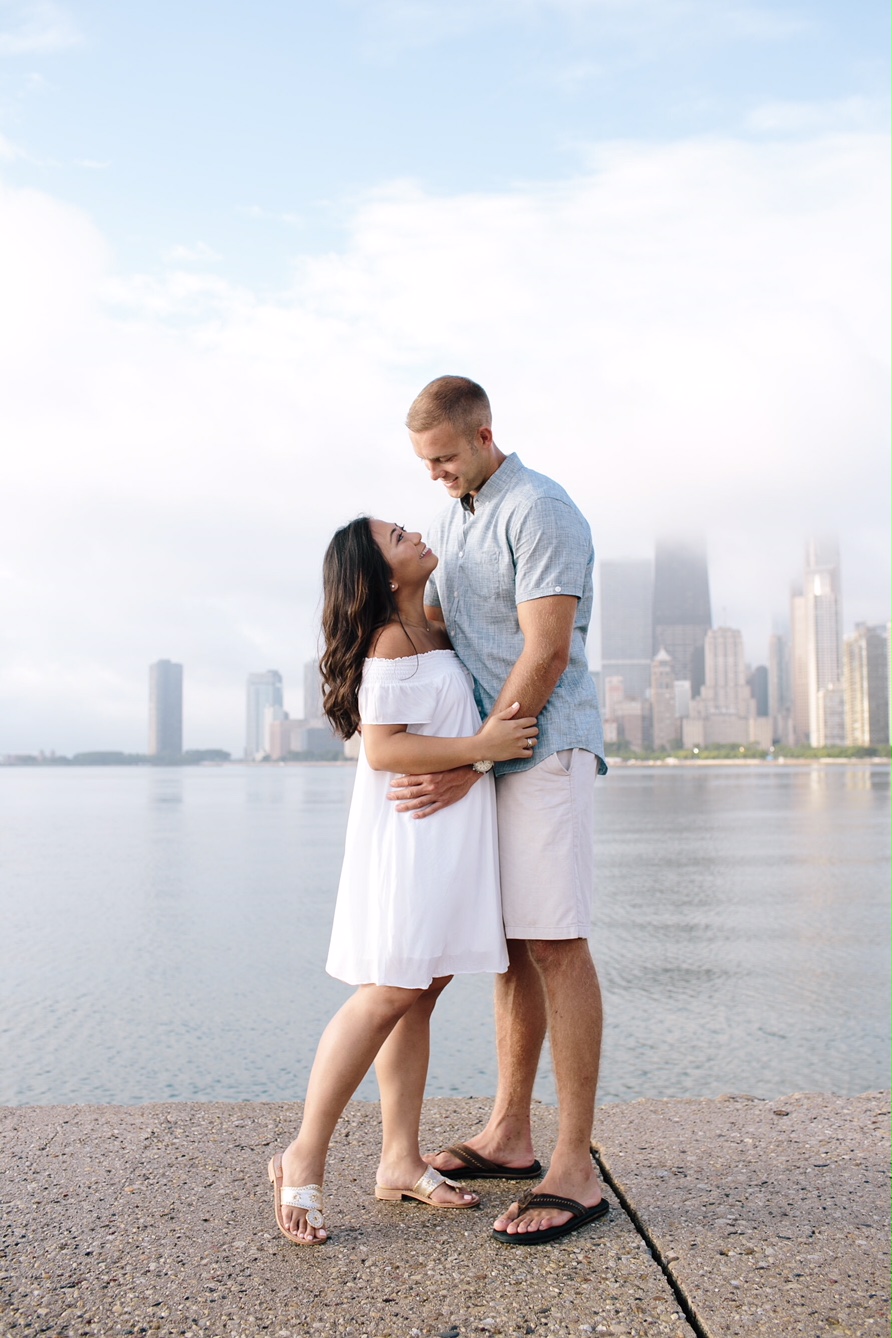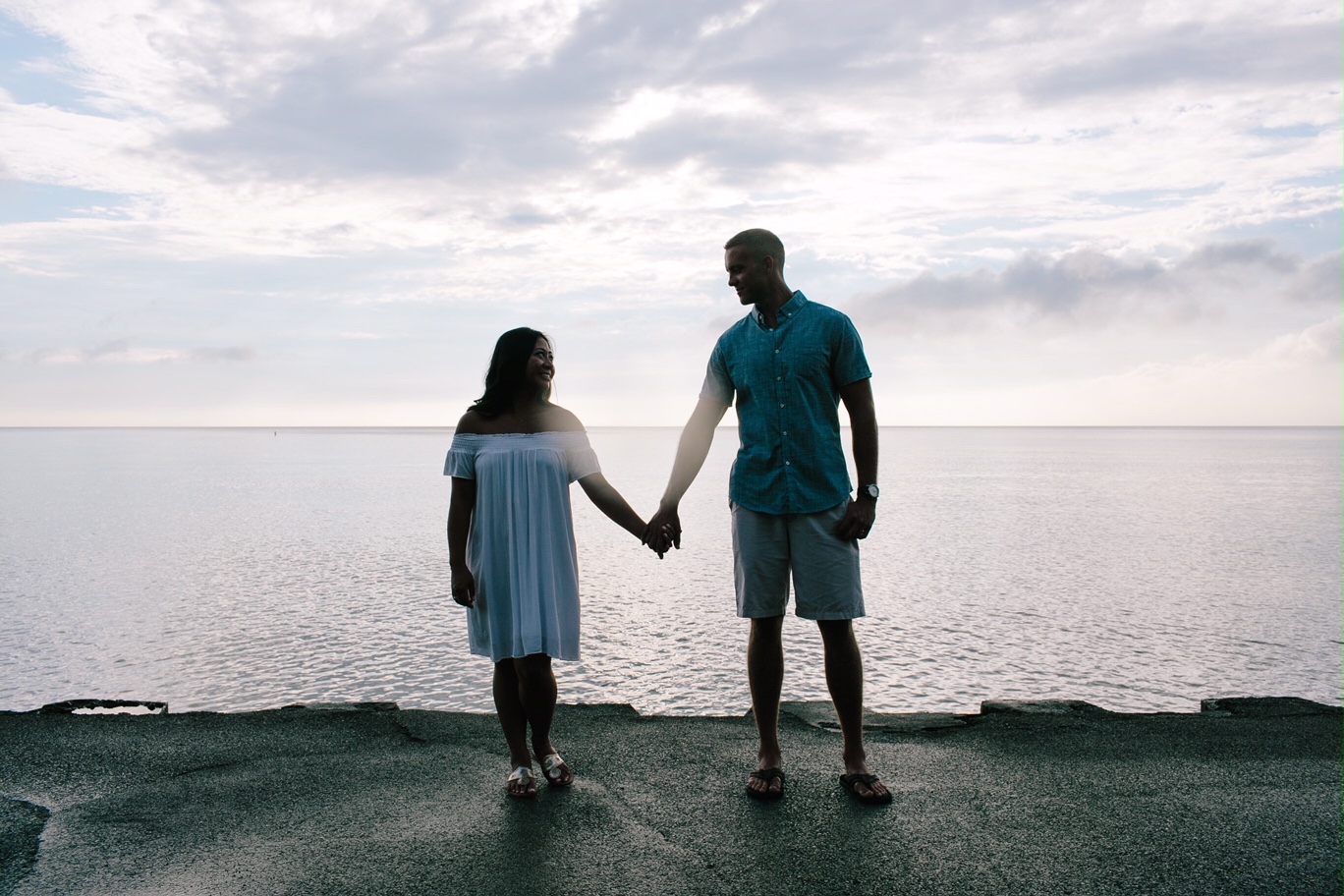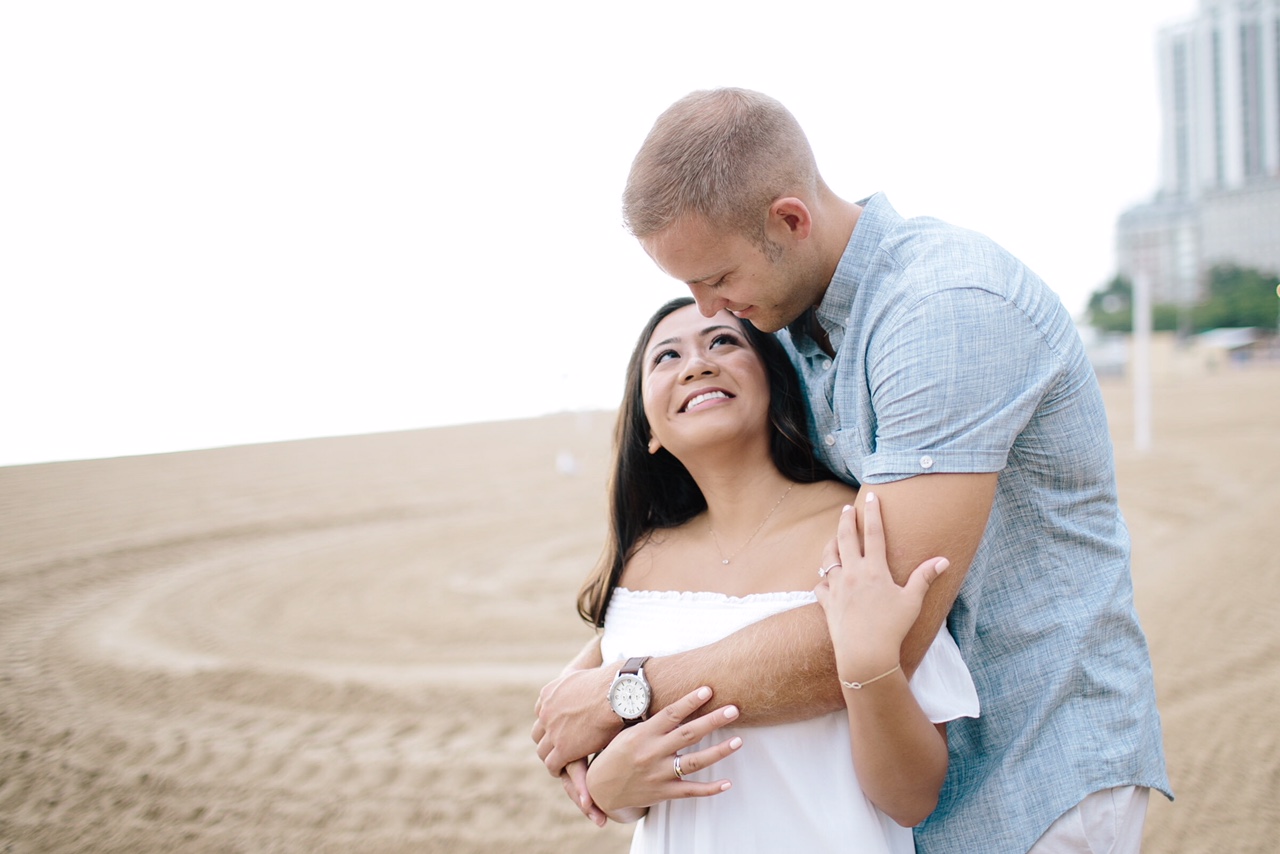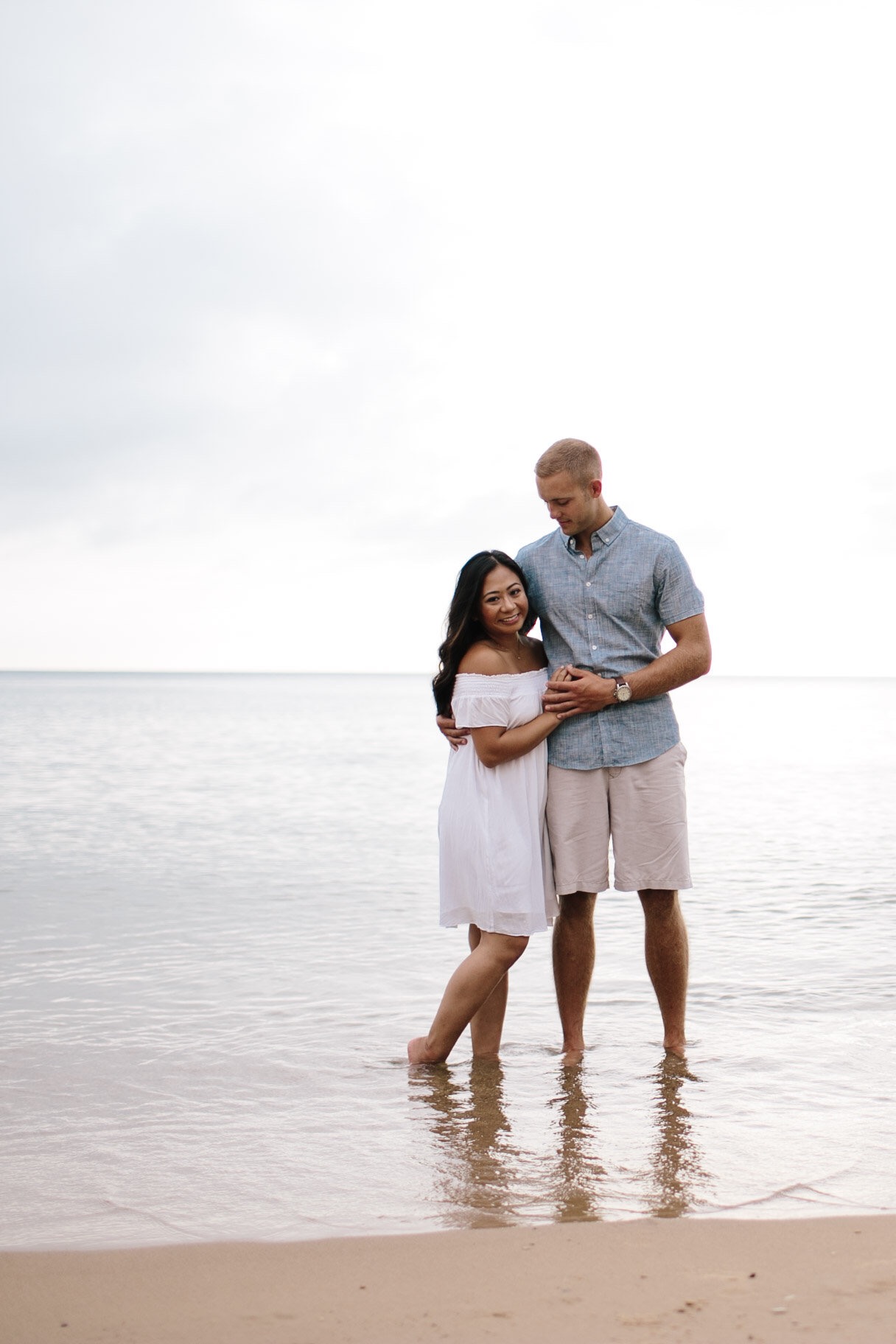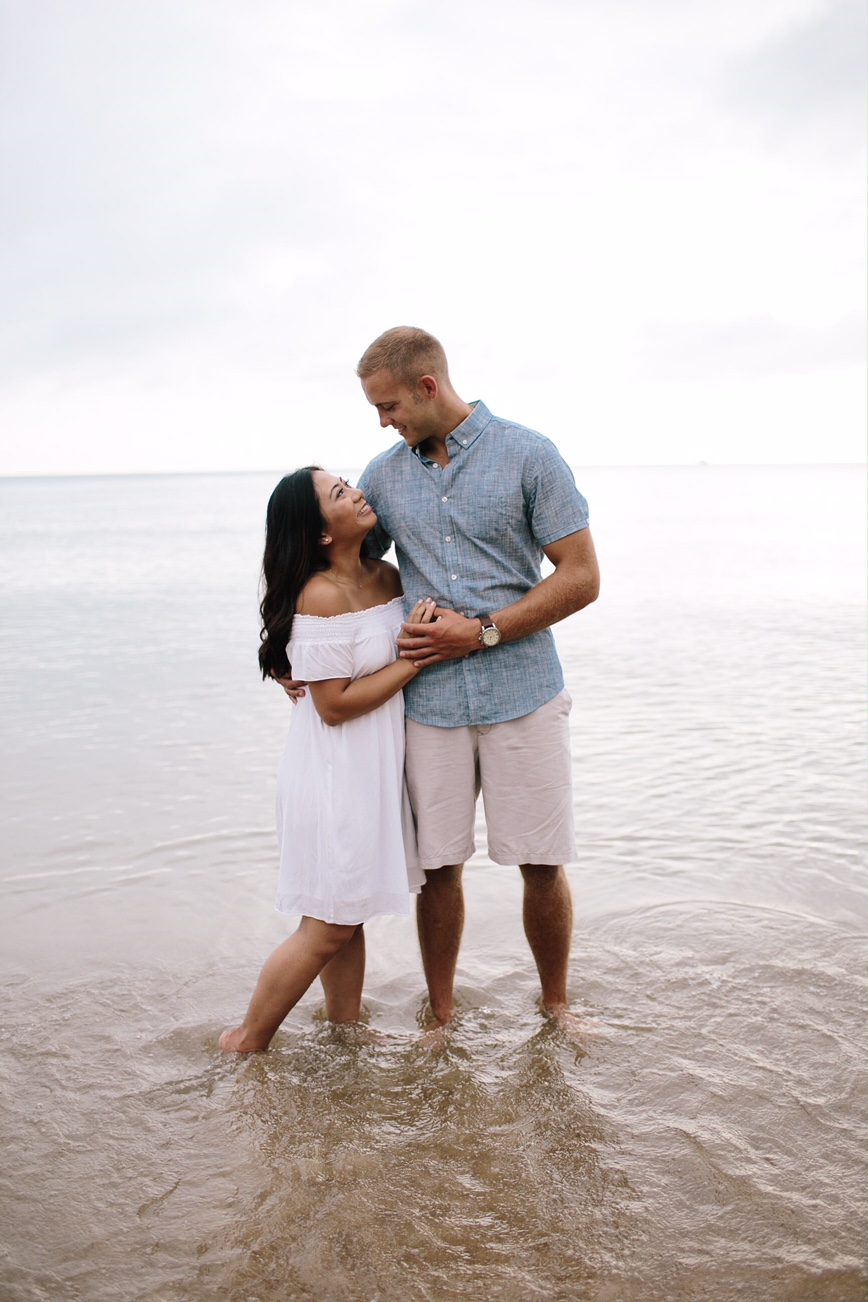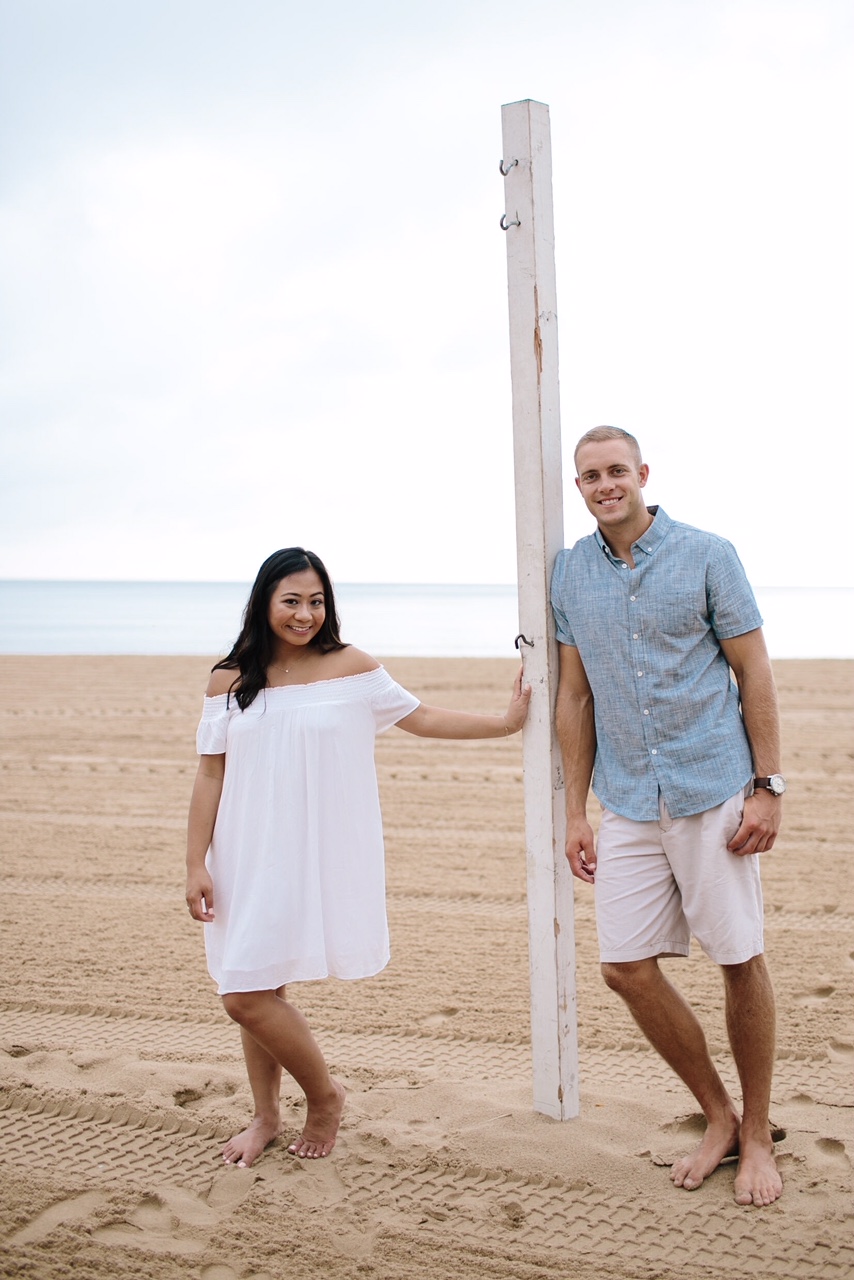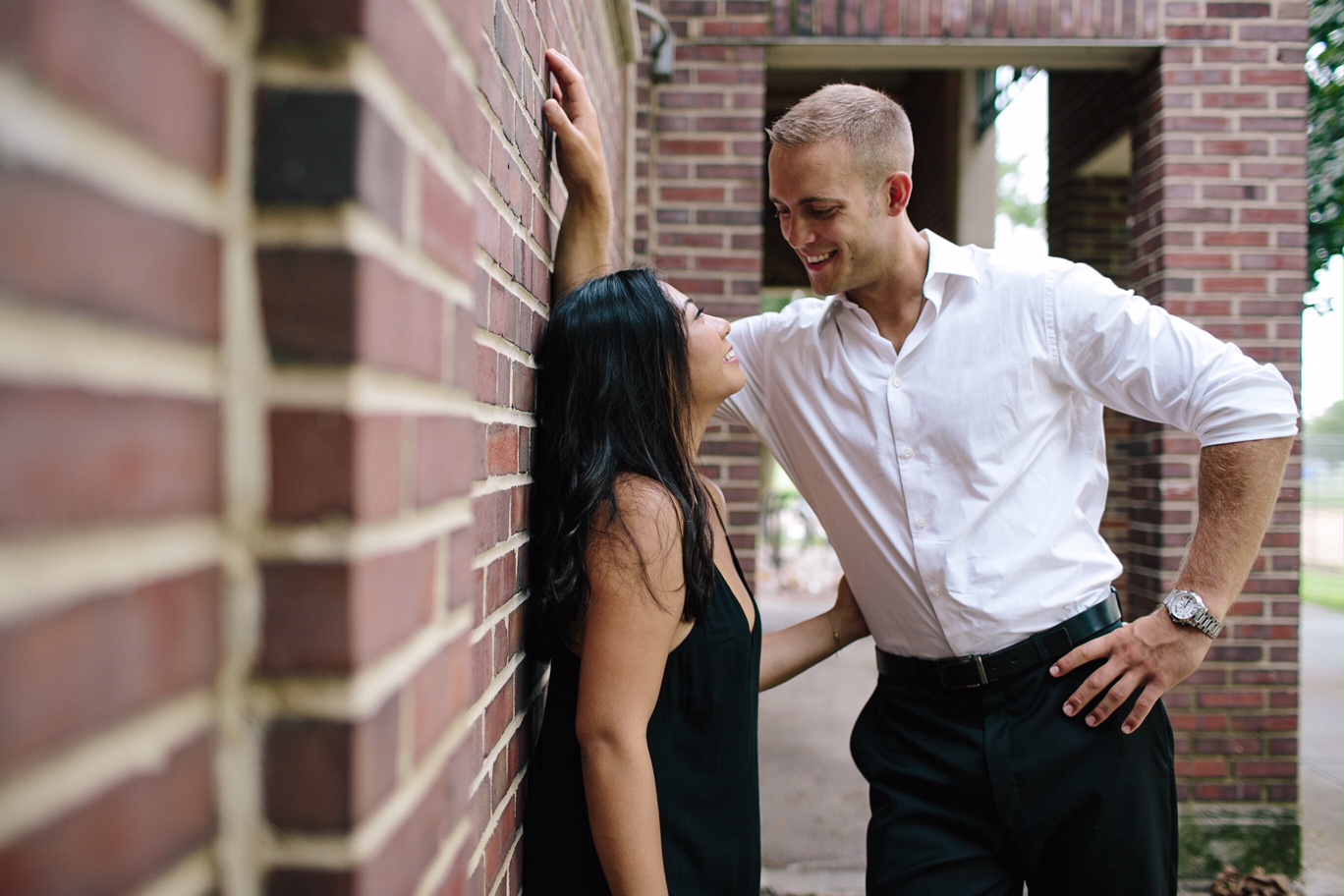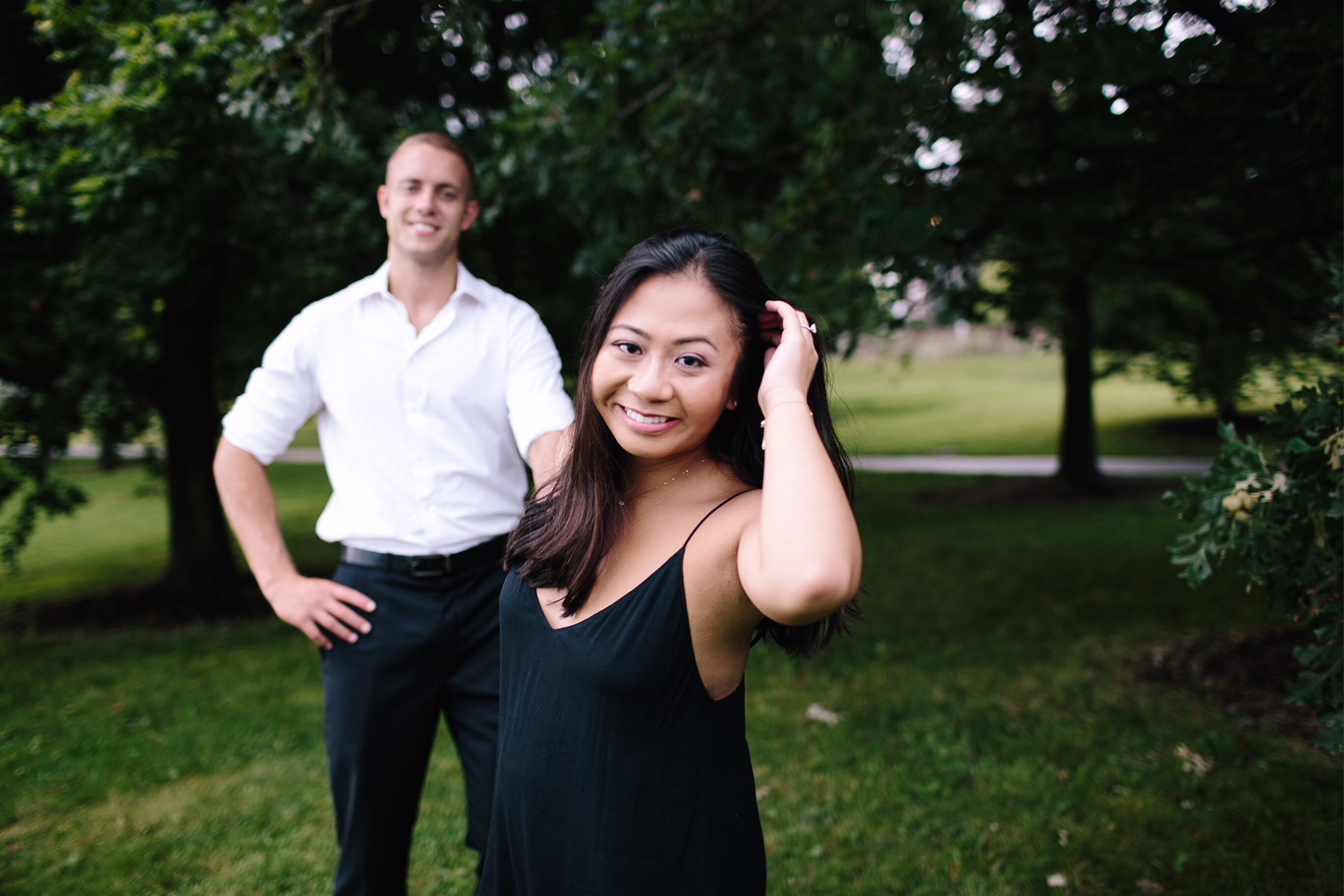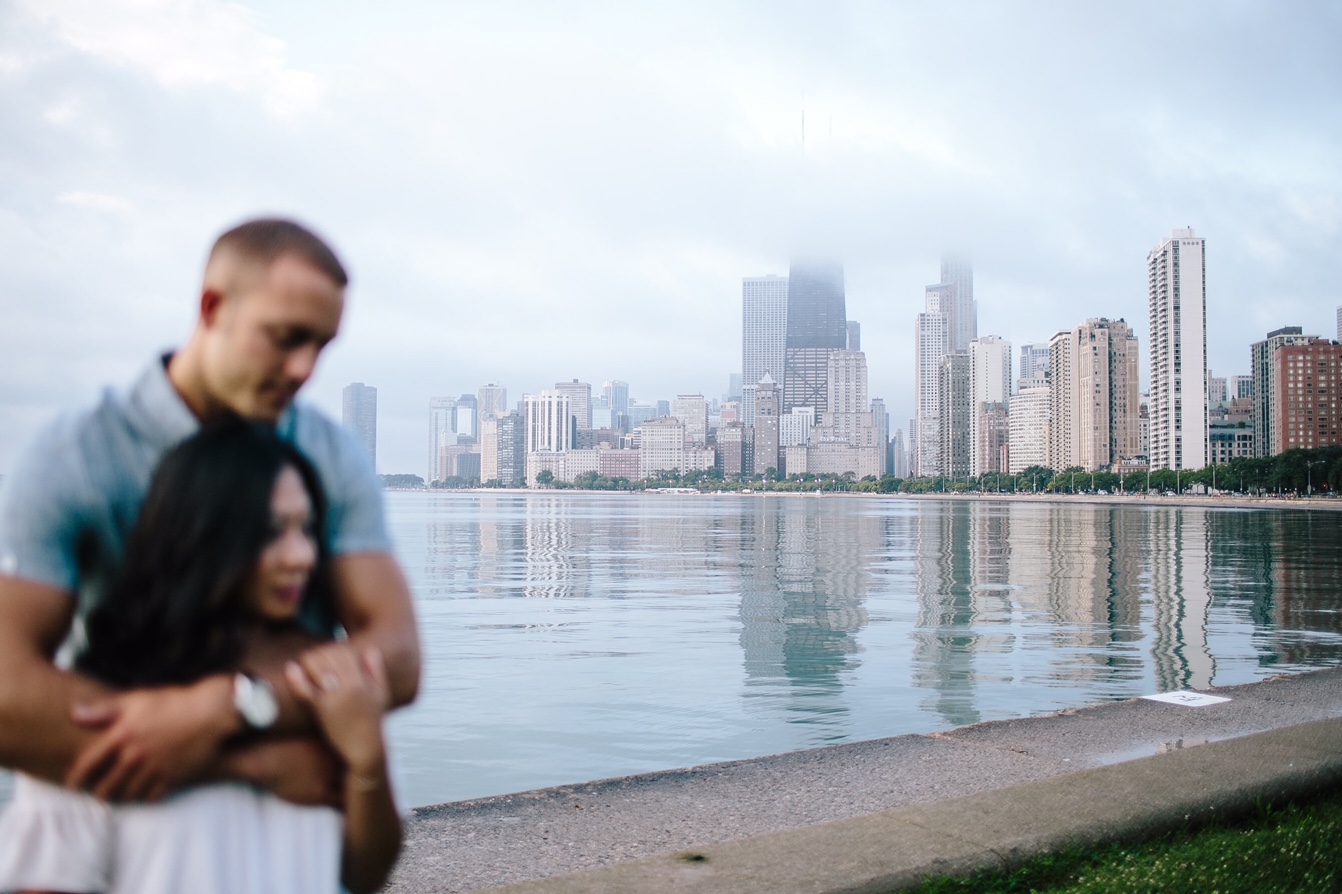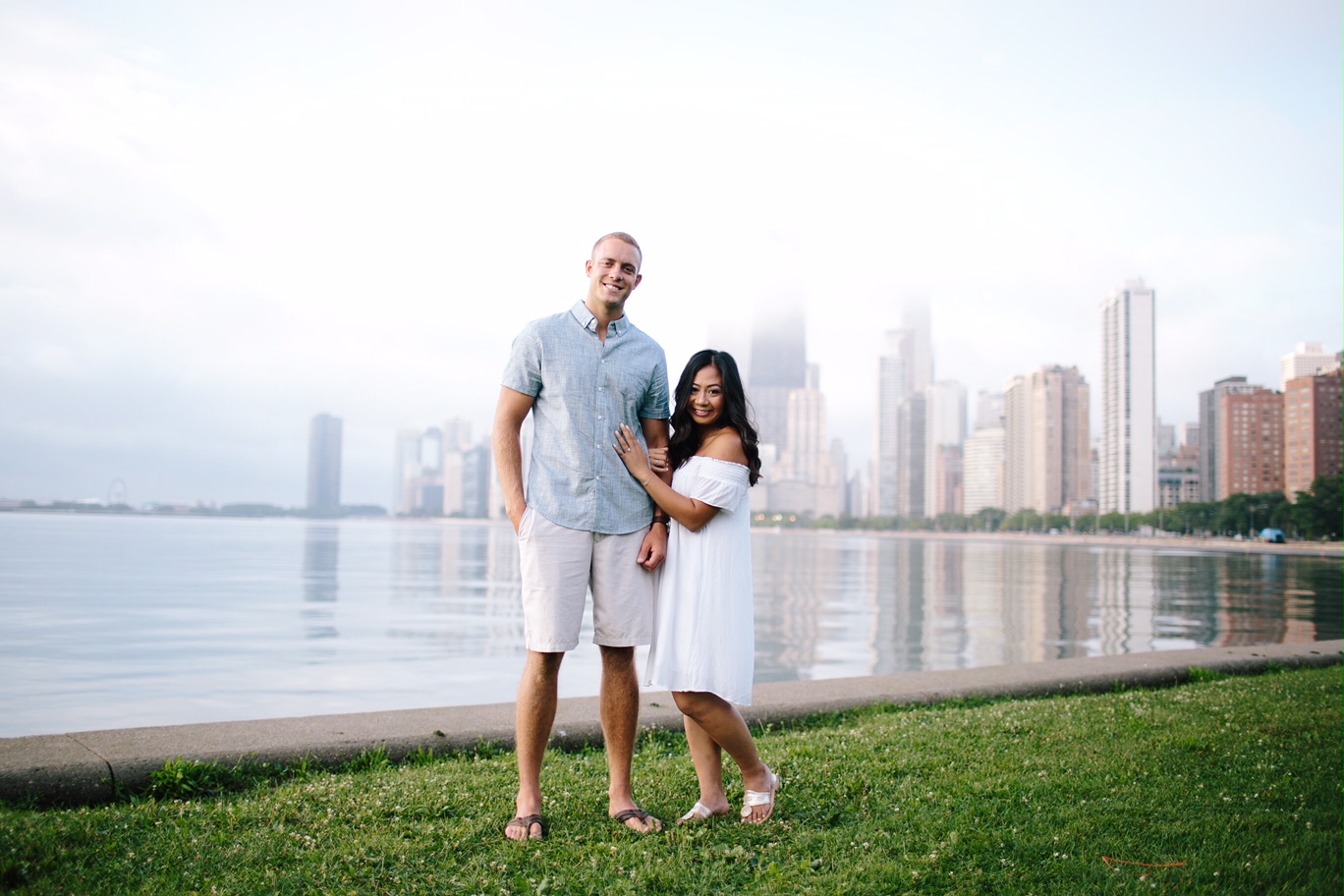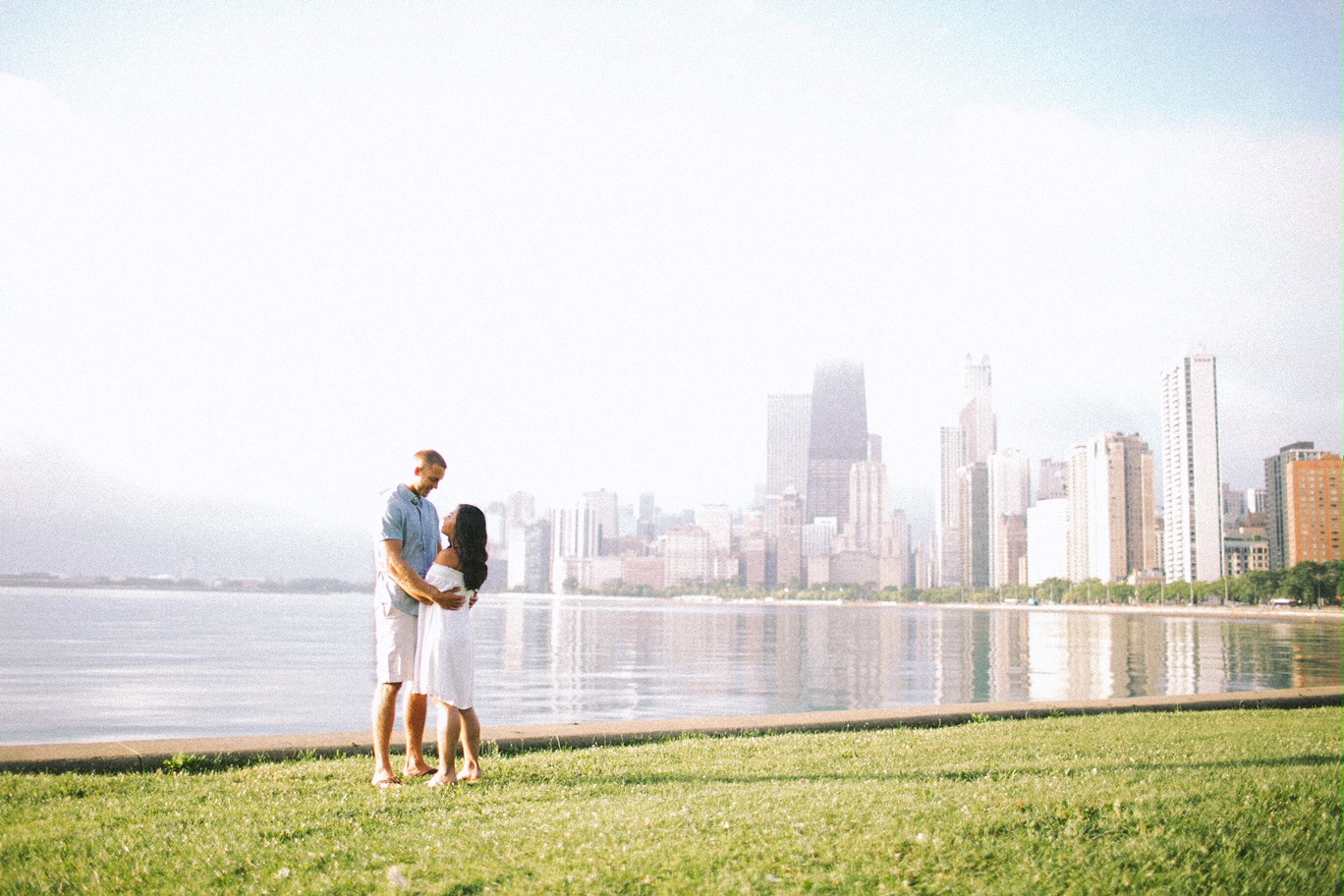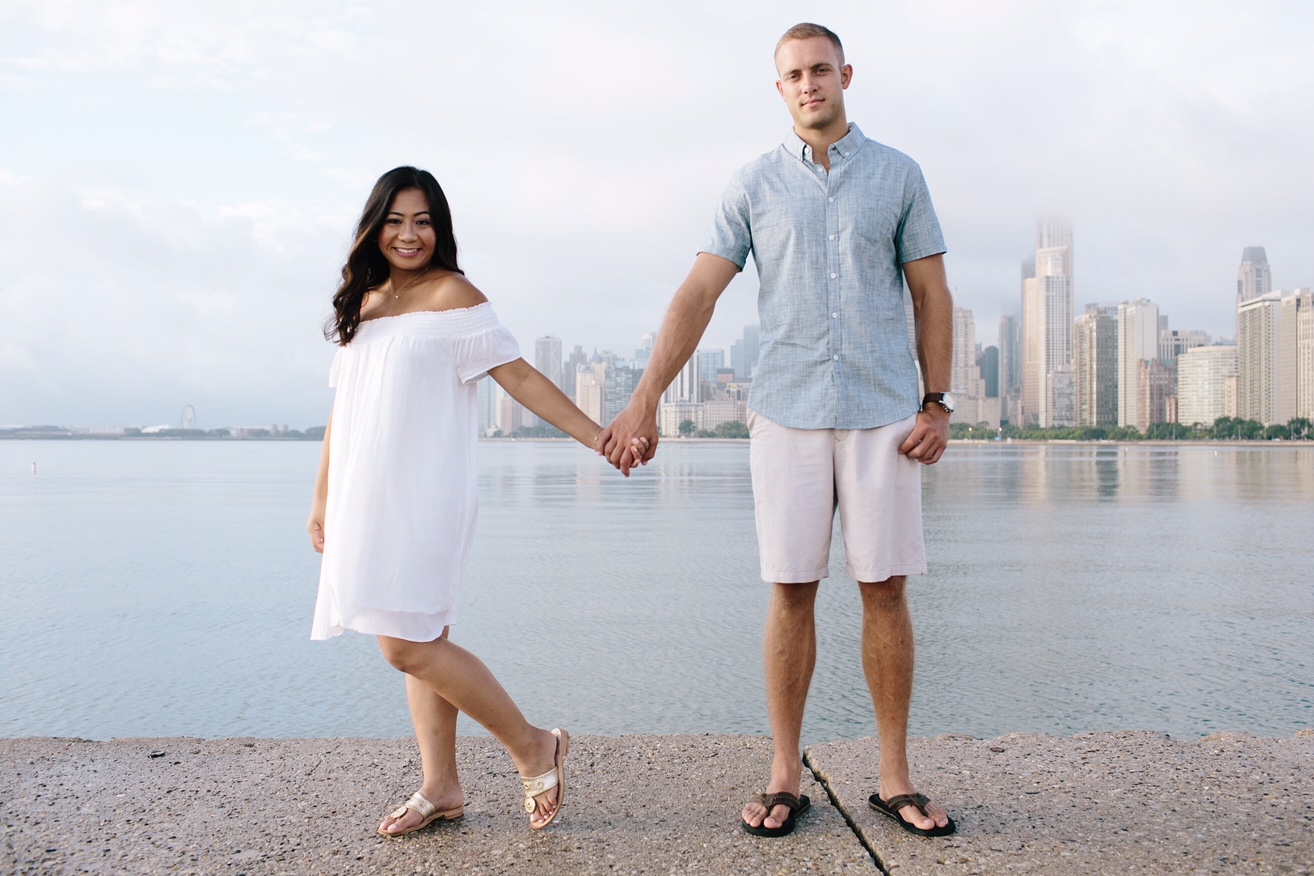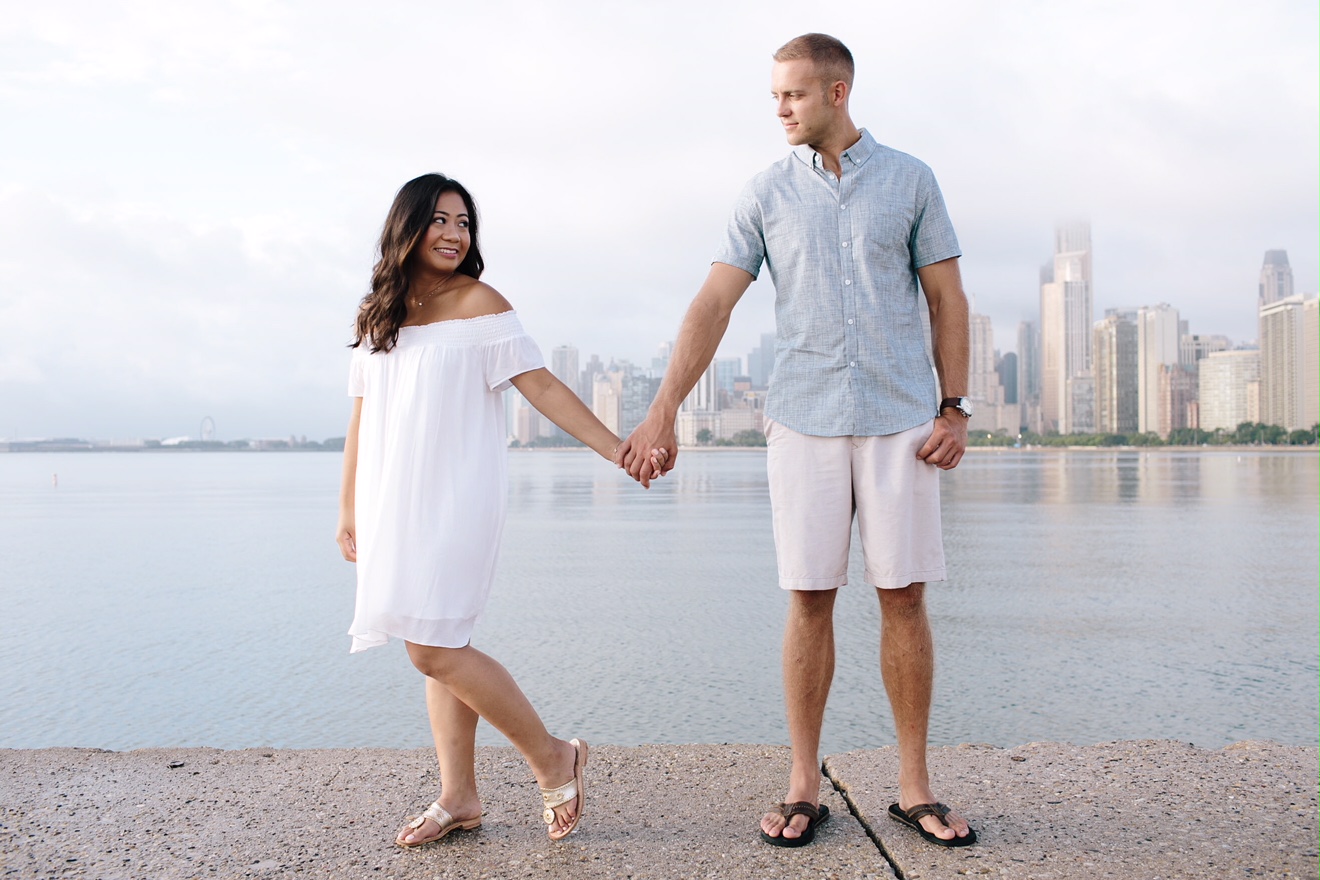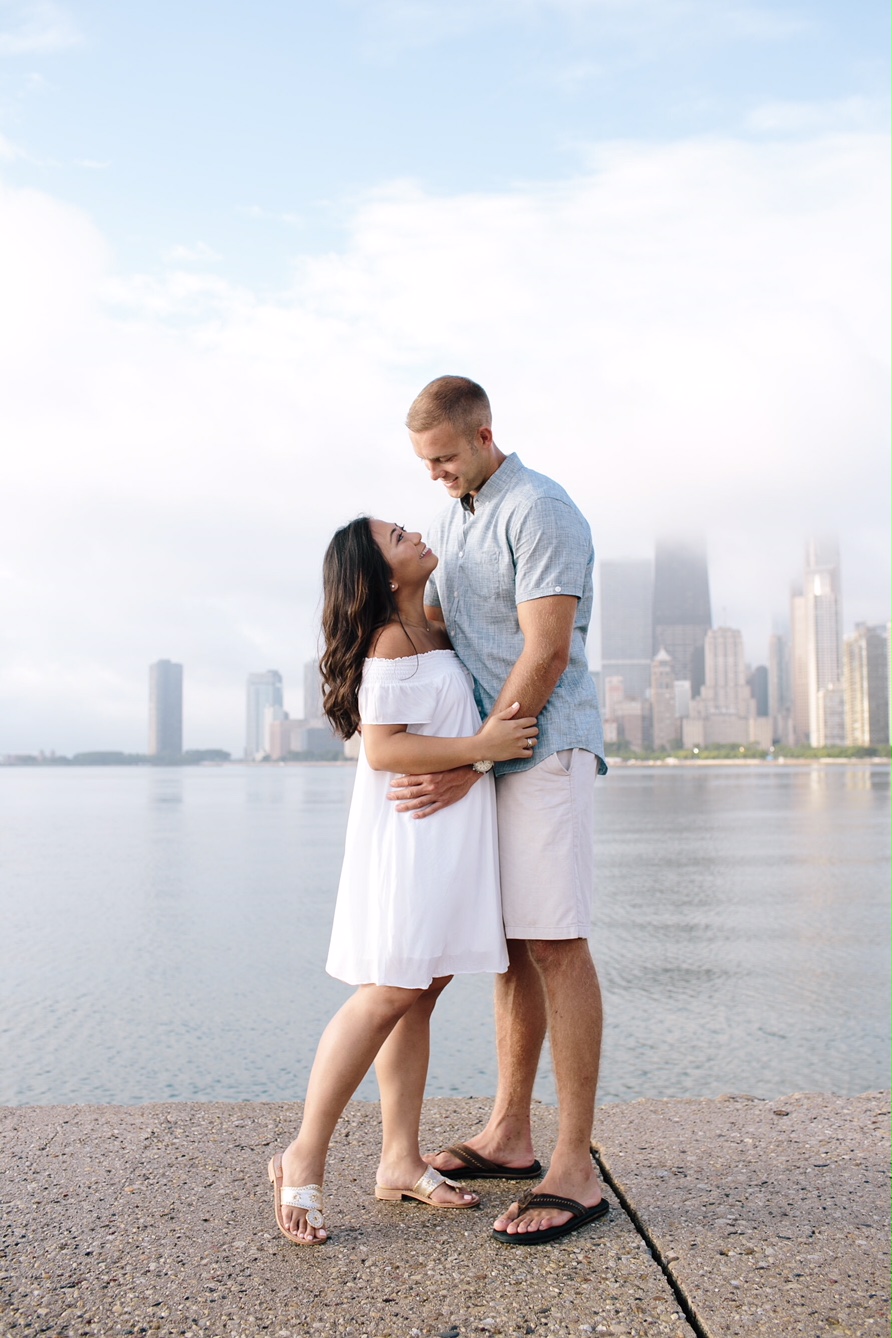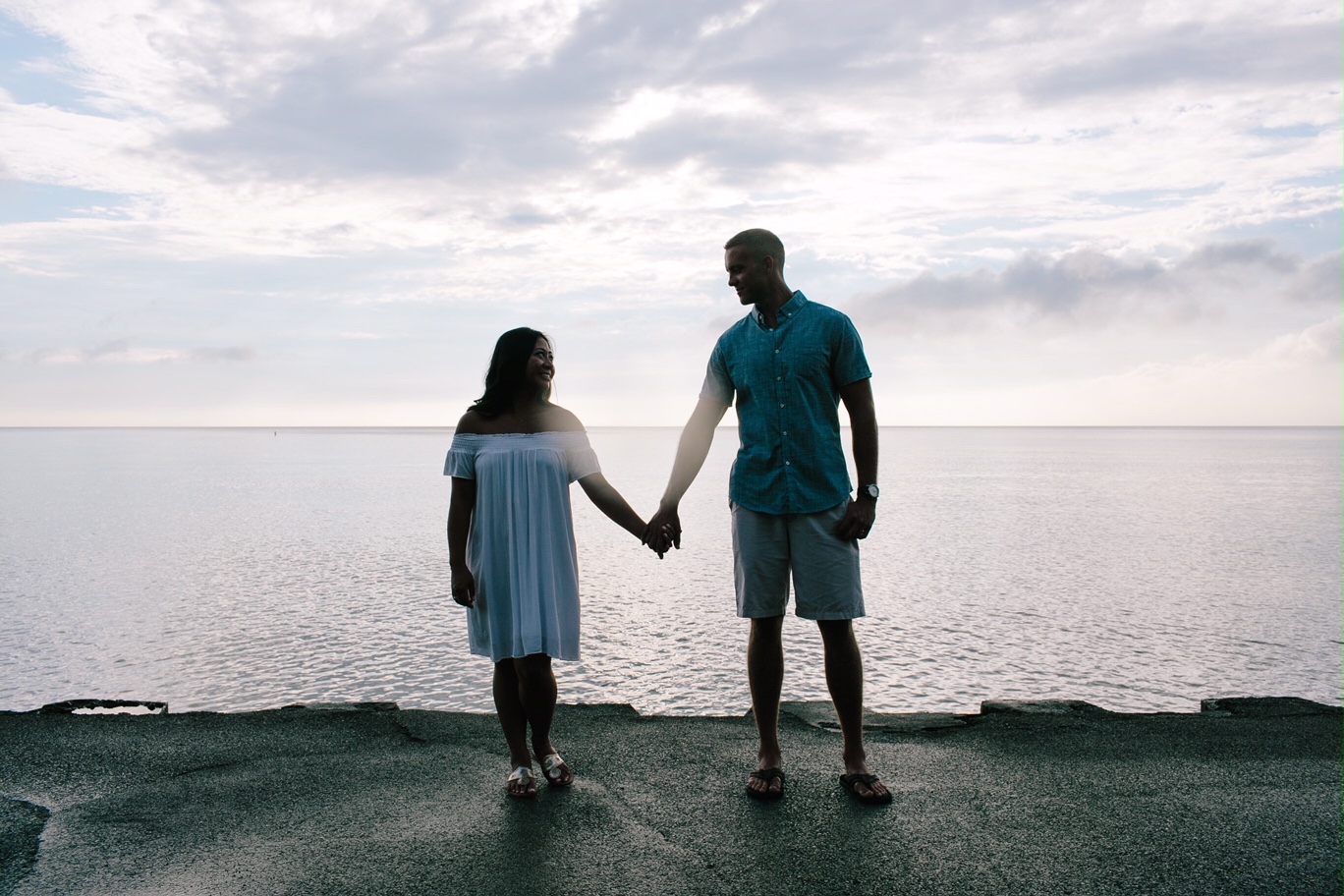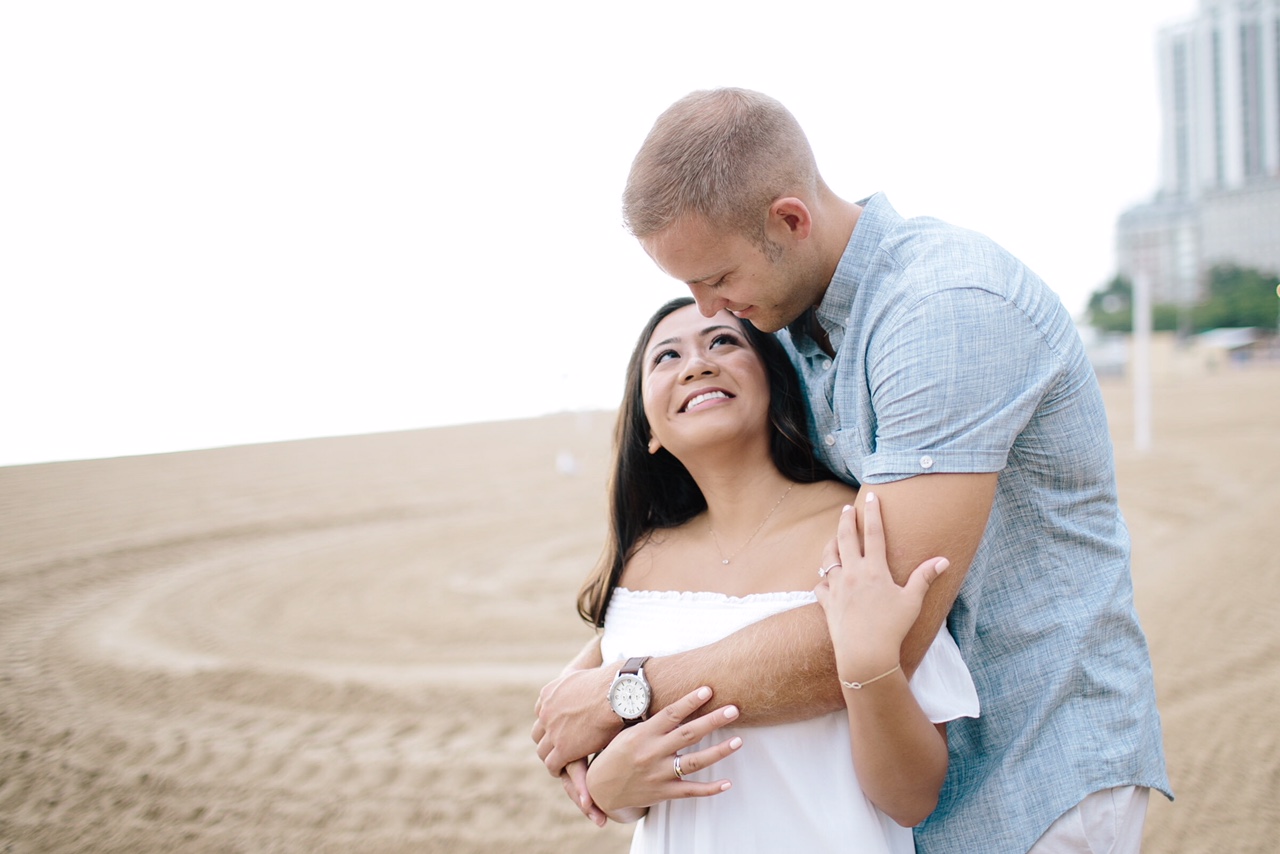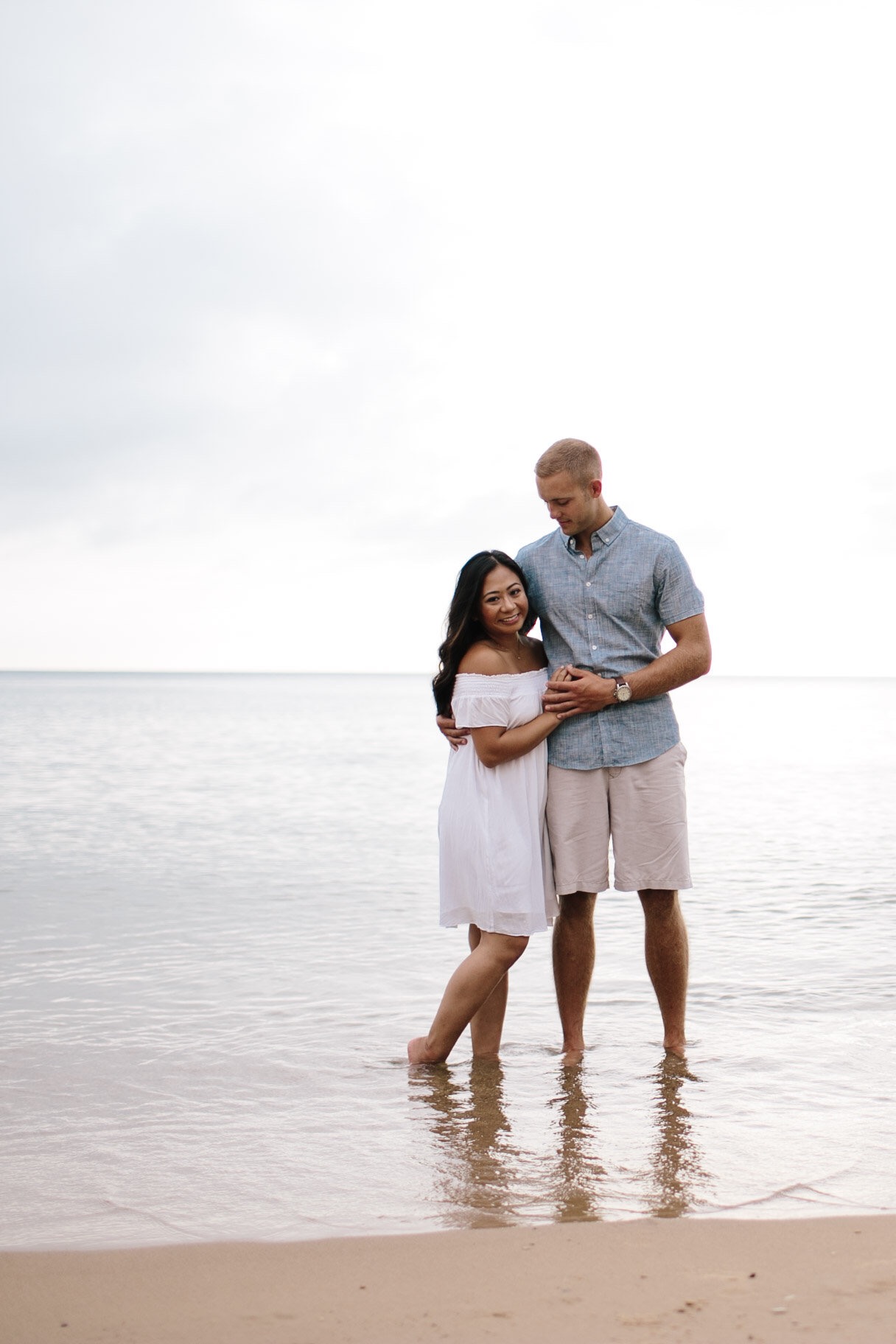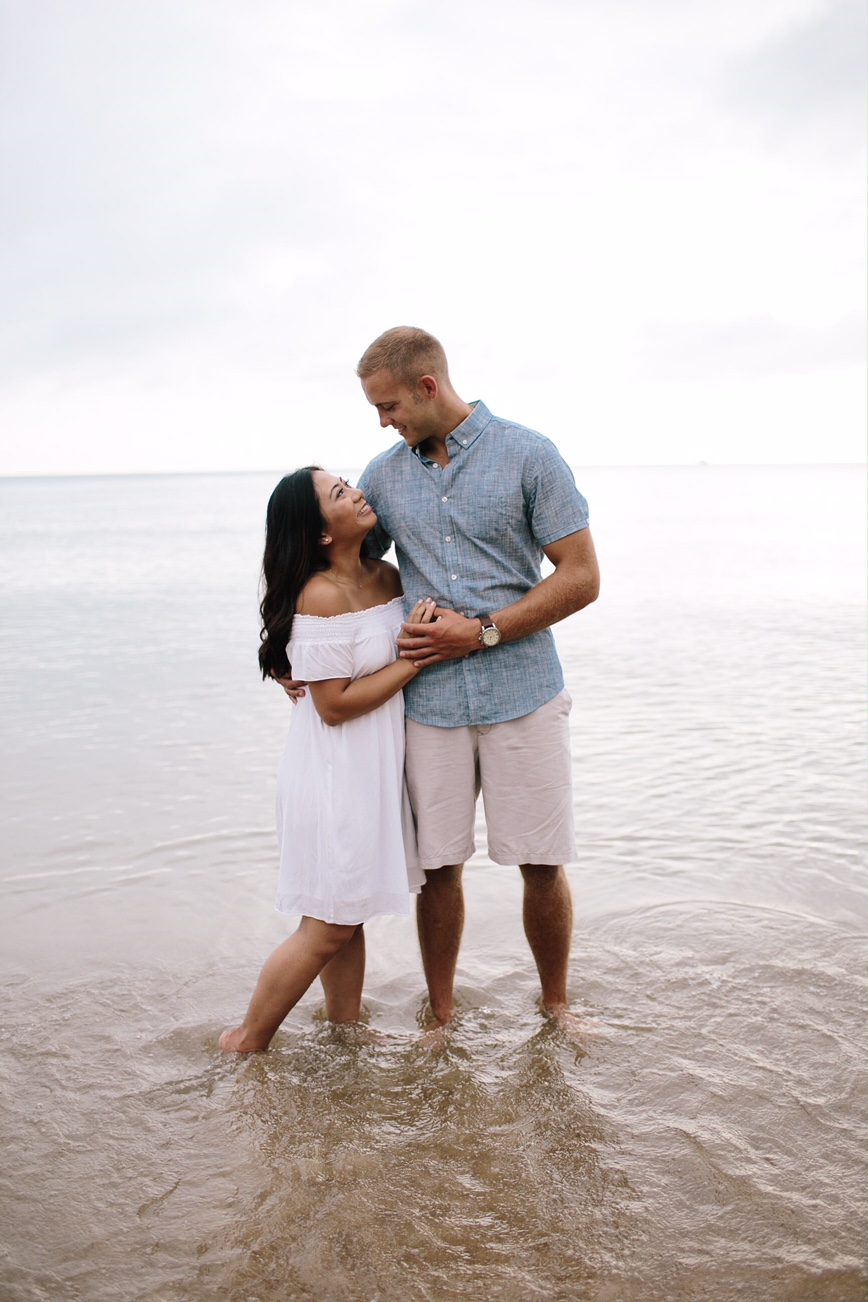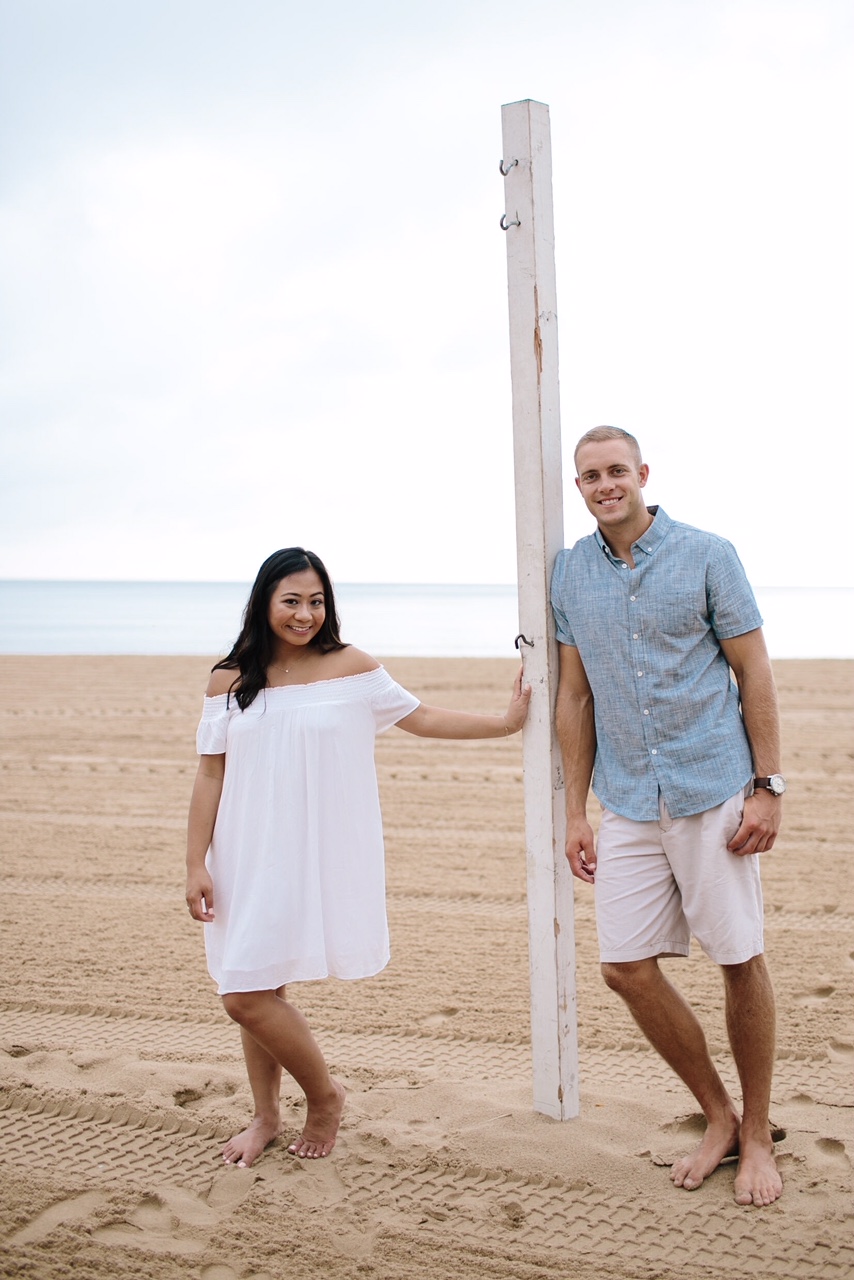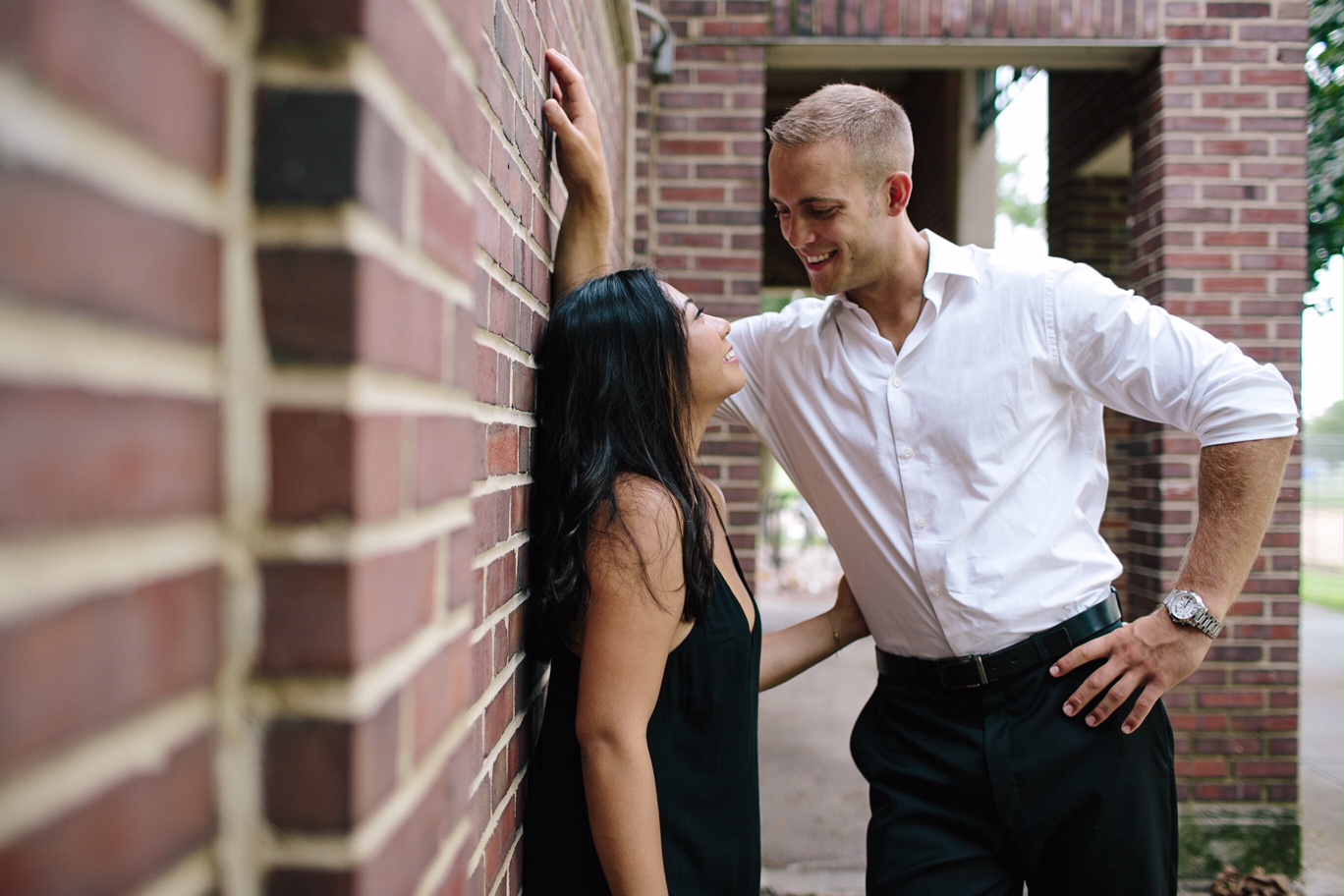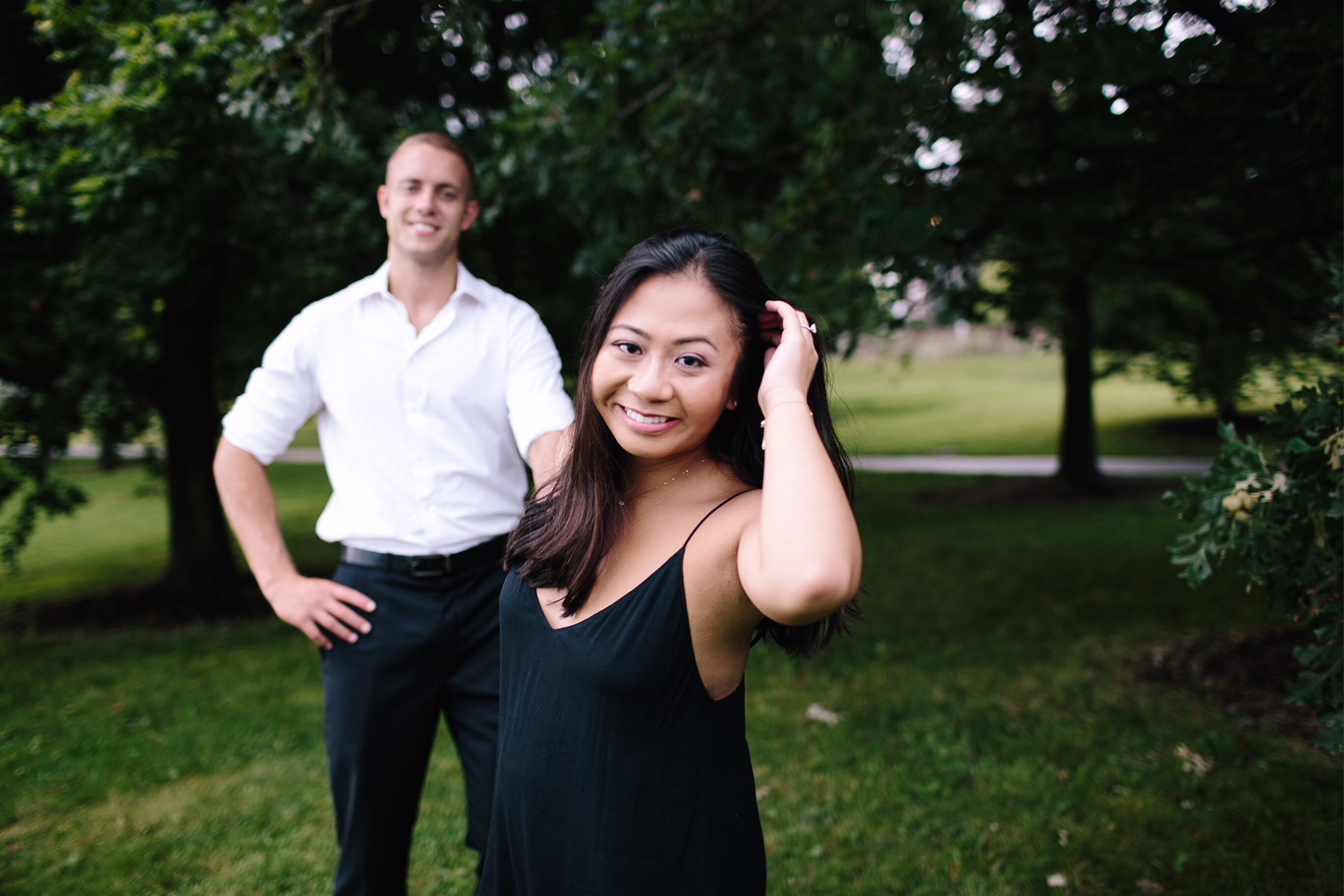 we took our engagement photos in chicago at oak street beach, of course. we even stood at the same exact spot where we met for one of our shots! We also took our second outfit at a park nearby and it was such a beautiful day for it!
Sherahg photography was our photographer and she was so amazing to work with. We honestly had no idea what we were doing, but she made it so fun and enjoyable for us! she captured the perfect moments and it was so natural, we loved it all so much!
check out her blog post about our engagement shoot! (instagram account)